Holiday in Robe South Australia
Robe is just under four hours' drive from Adelaide and six hour's drive from Melbourne, on the Limestone Coast.
The South Australian tourism website describes our town as:
"Boasting rugged natural scenery and beautiful beaches interspersed with a stunning range of boutiques, restaurants and high-end accommodation, Fun's changed in Robe and it's closer than you think."
The team has also put together five reasons to visit Robe, and we find them hard to fault.
Of course, Robe caters to a range of experiences and some of our guests tell us they visit The Shelter and just bunker down in their own little hideaway, only venturing out for a stroll on the beach or through the village, or to get supplies.
We also have our own list of Things To Do in Robe, based on stories our guests have shared.
That said, here are some highlights from Tourism SA's list of "fun" things to do in Robe.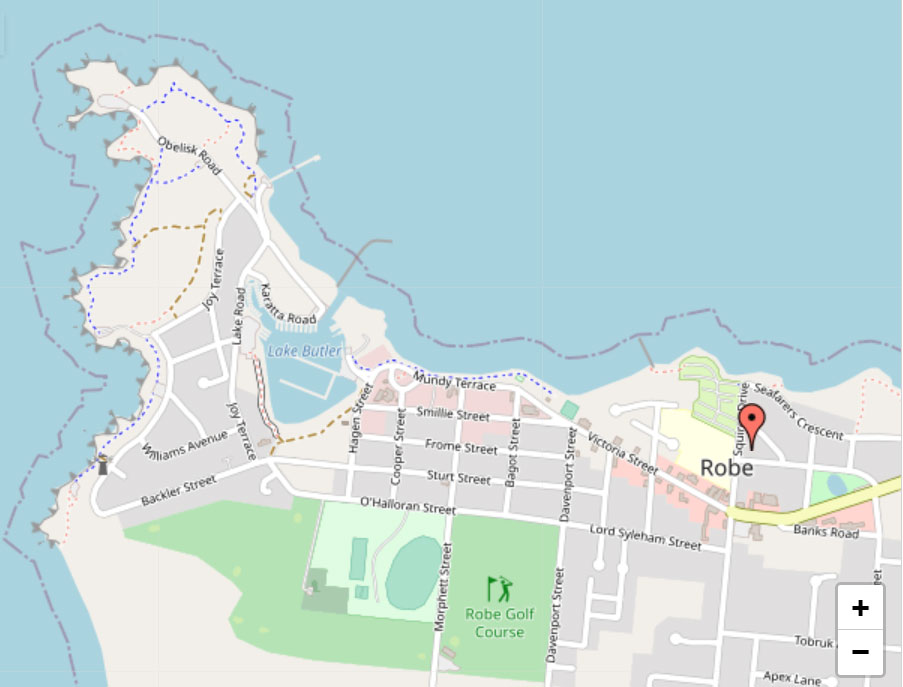 1. Be dazzled by natural charm
Robe dazzles with natural charm. Drive down 17 kilometres of pure white sand on the aptly named Long Beach or embark on the beautiful Obelisk trail passing the town's Old Gaol, jetty, marina and Factory Bay. Robe Town Beach is a must-visit all year-round with crystal clear water, pure white sand, great walking tracks and incredible scenery.
2. Treat your taste buds to revered food and wine
Robe is close to a number of great wineries, but for a truly unique drinking experience you can't go past the Robe Town Brewery. Under the eaves of the hand-made cobbled brewhouse, beer is made in true ye olde fashion with straw filtration, wood-fired kettles and open fermentation.
3. Give your wallet a workout
Victoria Street is Robe's dolled-up town drag where you'll find glitzy boutiques, glam homewares, galleries and cafés coexisting alongside the humble fish and chip shop, butcher and general store.
4. Delve into a rich history
Robe has a rich history as one of South Australia's oldest towns. Named as South Australia's second-busiest international port in the 1850s, exports included horses, sheep skins and wool. Today, you'll find remnants of Robe's past everywhere, with a huge amount of fully restored Heritage-listed buildings and landmarks smattered throughout town. Experience the best of Robe with one of our Limestone Coast tours and charters.
5. Stay the night
Well, we couldn't agree more!